The Waterfalls in Ontario are a natural wonder that should be visited regardless of where you are going. There's no better time to explore the many waterfalls dotting this region than as summer dawns on Ontario's snow-laden landscapes and the snow begins to melt, slowly allowing nature to take over again. Call it the best time to visit popular water streams or simply an excuse to spend more time outside, waterfall season in this Canadian province is a magical time of year that is undeniably appealing to the adventurous. Visit Most Beautiful Places in Europe We bring a curated selection of hidden gems hidden in the middle of valleys to touristic cascades that attract people from all over the world.
10 Best Waterfalls in Ontario You Should Not Miss
Relaxing in the comforts of the cityscape is a common experience, but venturing out to find natural wonders such as Waterfalls in Ontario can provide a one-of-a-kind adventure unlike any other. If you want to discover these natural treasure troves, keep reading to find out our top picks for your next itinerary.
Kakabeka Falls
The Kakabeka Falls, at over 40 meters, is a well-known natural wonder located within the Kakabeka Falls Provincial Park. There's a pedestrian bridge that takes you to the best viewpoint for taking in the view and learning about the Kaministiquia River and the nearby gorge, also known as "the Niagara of the North." There is a visitor center with up-to-date information for your visit, as well as a souvenir shop
2. Sherman Falls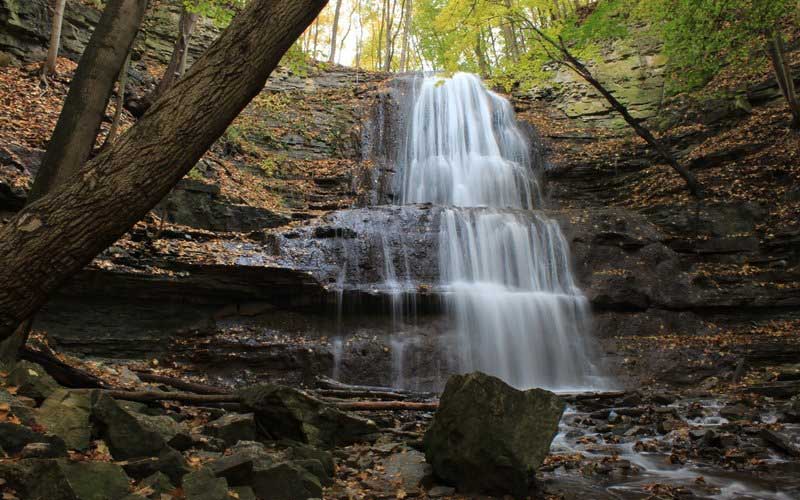 Sherman Falls, another waterfall that flows from above the Niagara Escarpment, is a 17-meter high curtain fall that gets its water from Ancaster Creek. If you plan to visit, take the Lions Club Road and you will see water cascading down from between forest trees as you travel from the highway to the basecamp. It is on the Bruce Trail, and a visit to the Old Mill Restaurant is highly recommended.
3. The Devil's Punchbowl
If there is a waterfall in Ontario that can be classified as the most dramatic, The Devil's Punchbowl is a dynamic natural landmark that stands out in both name and outlook. The ribbon waterfall, which falls from a height of 37 meters, flows into a dome-shaped gorge, creating a beautiful natural scene. On a clear day, you can see the Toronto skyline from this waterfall, which is located in the Stoney Creek community of Hamilton.
4. Inglis Falls
Inglis Falls, a stunning waterfall near the Owen Sound area of Ontario, falls from a height of 18 meters long with 7.42 meters of trails. The Sydenham River created this waterfall, which is located within the Inglis Falls Conservation Area. There are numerous vantage points from which to observe and photograph the fall while also learning about the surrounding ecosystem.
5. Duchesnay Falls
While there are a few waterfalls in Ontario that include mesmerizing forestland and trails, Duchesnay Falls provides more than just a glimpse of the cascade. The best vantage point is off Highway 17, and if you want to touch down at the base, take a walk from behind the Education Centre to the waterfall while also visiting Lake Nipissing and other cross-country trails.
6. Bridal Veil Falls
Bridal Veil Falls is a natural gem in the town of Kagawong on Lake Huron's Manitoulin Island. The Niagara Escarpment waterfall is located at the end of a short hike from Highway 540 in Kagawong. Make your way down a steel staircase into a gorge where you can see the falls up close and take a tour around them. Make plans ahead of time because this is one of Ontario's most popular waterfalls.
7. Sauble Falls
The Sauble Beach is not only home to a popular waterfall, but it is also a popular Ontario town where summer is an extravagant fiesta of outdoor activities. Discover the Sauble Falls Provincial Park, which houses the Sauble Falls. On a tour, you can observe the white glistering water flowing down the low steps of limestone cliffs, and if you have a day or two to spare, ask for the surrounding campground for a short stay to immerse yourself in the local beauty.
8. Chedoke Falls
Amidst the hustle and bustle of Hamilton, the Chedoke Falls near the east branch of the Chedoke Creek is a tranquil spot where you can unwind with a soothing walk or a small picnic. A residential area on the Niagara Escarpment just above the waterfall has a height of 18 meters and a width of 9 meters, making it a unique location to learn about.
9. Belfountain Falls
The Belfountain waterfall is a serene space with nurseries and fishing spots nestled inside the 32-acre land park in the Belfountain Conservation Area, with an easy 1.5-kilometer climbing trail. After crossing the engineered overpass, you can walk across the falls to get a better look at the water. After viewing the waterfall, you can continue your adventure by exploring the nearby West Credit River and Bruce trail.
10. Albion Falls
The dramatic flow of Albion Falls, located on the edge of Mountain Brow Blvd and right near Hamilton's east end, is one of Ontario's most popular sights. To get there, take one of the several walking trails just past Lover's Leap, where a rugged path cuts through a rocky gorge and ends at viewing platforms with views of the 19-meter high and 18-meter wide waterfall. The water cascading down the Niagara Escarpment in Red Hill Valley is one of Ontario's most famous waterfalls.
Driving through Ontario's postcard highlands, one of the most majestic natural wonders you'll encounter is the country's pristine showcase of waterfalls. Exploring the waterfalls in Ontario is an absolute must, from a slow day of trekking to a base camp expedition against the sound of a cascading stream.