What comes to mind when you consider the Best Beaches in Punta Cana, Dominican Republic? Perhaps you envision a beautiful beach with white sand and tall palm trees. You imagine yourself lounging in the shade and swimming in the Caribbean Sea's crystal clear waters. You'll eat fresh seafood for lunch and wash it down with coconut water. Did anyone mention paradise?
Punta Cana is unique in that it does not have a single beach. Punta Cana and Bavaro are actually part of a 40-mile stretch of coastline that, in addition to fantastic all-inclusive resorts, has dozens of beautiful beaches. These Punta Cana beaches are all unique, and each one offers something different, from snorkeling and scuba diving to surfing and even kitesurfing!
So, which beaches in Punta Cana are the best? In this blog post, we'll share our Punta Cana beach reviews so you can choose the best beach for your vacation in Punta Cana!
11 Best Beaches in Punta Cana in 2022
Bavaro Beach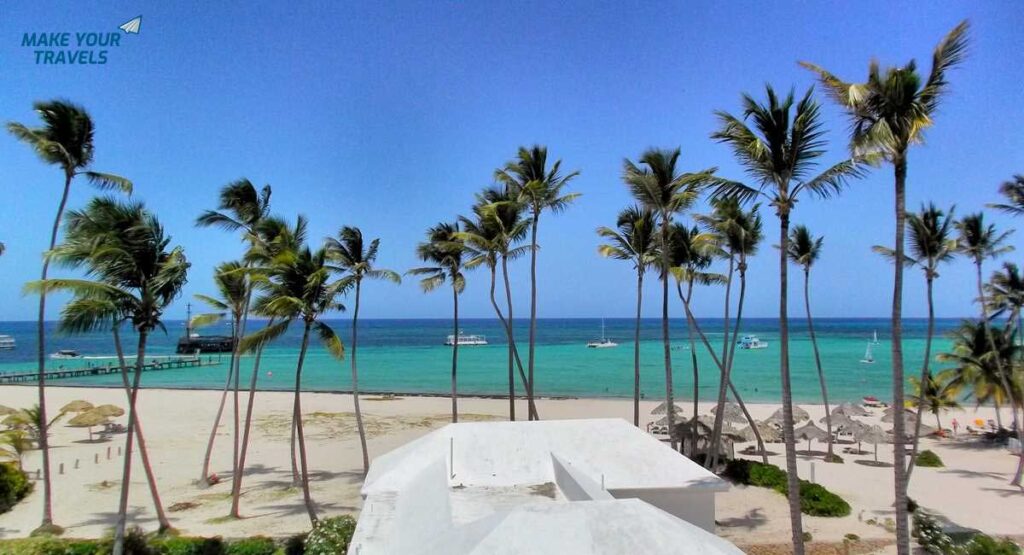 Bavaro Beach, also known as Playa Bavaro in Spanish, is the main beach in Punta Cana, and it attracts tourists from all over the world due to its white sands and turquoise waters. It is home to a slew of all-inclusive resorts, including the Barcelo Bavaro Palace and the Hard Rock Hotel.
The term "Bavaro Beach" refers to several beaches in Punta Cana that have all-inclusive resorts, including Arena Blanca and Arena Gorda. Because there is no physical barrier separating these all-inclusive resort beaches, the term "Bavaro Beach" is frequently used to describe all of them. However, there are some minor distinctions between Arena Blanca and Arena Gorda that we will discuss in this article.
What You Can Do at Bavaro Beach
Sunbathing & Swimming: Although it may seem obvious, Playa Bavaro is one of the best beaches in Punta Cana for relaxing and getting a tan while sipping a delicious tropical cocktail or reading your latest book. It is one of the most beautiful beaches in Punta Cana, so if you want to relax under the swaying palm trees, Bavaro Beach is the place to go!
Fun Water Activities: Is relaxing on the beach, not your thing? For the thrill seekers out there, Bavaro Beach has a lot to offer! You can go banana boating, parasailing, kayaking, waterskiing, and other activities! Some of these water activities may already be included in your stay if you stay at an all-inclusive hotel. These activities are also available from independent vendors right on the beach.
2. Arena Blanca
Arena Blanca is the best beach in Punta Cana to visit if you want to experience the best all-inclusive resorts. Because of the crystal clear waters, beautiful white sand, and swaying palm trees, this beach is home to many of the most exclusive beach resorts. Unfortunately, there is no public access to this beach, so you'd have to stay at one of the all-inclusive resorts to enjoy it.
What You Can Do at Arena Blanca
Take Advantage of the All-inclusive Resorts: Arena Blanca is the place to be if you want to experience the best resorts Punta Cana has to offer. Arena Blanca's hotels include the Paradisus Punta Cana, Ocean Blue & Sands, and the Princess Resorts. Bavaro Beach includes Arena Blanca.
Experiment with Various Water Sports: Even though Playa Arena Blanca is not the best location for more adventurous water sports such as kitesurfing or surfing, there is still plenty to do. Consider renting a catamaran or learning to windsurf!
Search for Starfish: When visiting Isla Saona, it is common to see starfish, but they are sometimes washed up on the beach at Playa Arena Blanca. Try looking for them and returning them to the ocean to have fun with your loved ones while also helping to protect the environment!
3. Arena Gorda
Arena Gorda is the beach immediately adjacent to Arena Blanca and is similar in many ways. It also has many all-inclusive resorts, but it is longer than Arena Blanca and ends in a pristine and untouched wild beach just past the Hard Rock Hotel. It's ideal for a long walk that will allow you to see a lot of Bavaro while enjoying the scenic tropical landscape. Bavaro Beach includes Arena Gorda as well.
What You Can Do at Arena Gorda
Take a long walk to the hidden beach: Arena Gorda does not have a public access point, but you can get there by passing through one of El Cortecito Beach's beach bars and walking down Playa Arena Blanca. Then you can continue for miles and miles, passing various hotels, until you reach the Hard Rock Hotel and discover an unspoiled beach right behind it!
Day trips from Punta Cana: If you stay at one of Arena Gorda's all-inclusive resorts, you will undoubtedly spend a lot of time on the beautiful beach. However, the resort's secure environment is very different from the real Dominican Republic, so we recommend going on day trips to Punta Cana.
4. Cabeza de Toro
Do you prefer to avoid crowds and visit more unusual and unusual places when you travel? Then a trip to Cabeza de Toro beach in Punta Cana might be ideal for you! With its beautiful and unexplored setting, this hidden gem is more secluded than Bavaro Beach and gives you all of the Robinson Crusoe vibes.
There are some beach accommodations available, but there are no large all-inclusive resorts like Playa Bavaro.
What You Can Do at Cabeza de Toro
Relax in Nature: Cabeza de Toro is the Dominican word for "tranquilo," which means "chill" or "peaceful." It's not as crowded as Playa Bavaro and has plenty of space for you to relax in a lush natural setting. Cabeza de Toro is greener than the other best Punta Cana beaches, so if you enjoy being surrounded by various flowers and plants, this is the Punta Cana beach for you!
Learn how to kitesurf: Cabeza de Toro is one of the best beaches in Punta Cana for kitesurfing lessons, which few people are aware of — we're letting you in on a local secret! Its shallow waters, size, and favorable wind conditions make it a reliable kitesurfing location. If you're confident in your abilities, you can either take lessons or go kitesurfing on your own! We recommend the King of Board Kite School for lessons.
Explore the local art scene: Surprisingly, Cabeza de Toro has a vibrant artistic community that frequently displays its paintings and crafts on the beach. Because the majority of the artists are Dominicans, you will be supporting local artists. If you're lucky, you might find a real treasure to take home with you!
Take a horseback ride: Is there a better way to explore one of Punta Cana's best beaches than by horseback? We thought so, too! Cabeza de Toro is a beautiful Punta Cana beach, so horseback riding there is a true treat. Plus, after your ride, you can grab a delicious and fresh lunch at one of the beach clubs!
Also Read: 10 Amazing Waterfalls in Ontario You Must Visit in 2022
5. Los Corales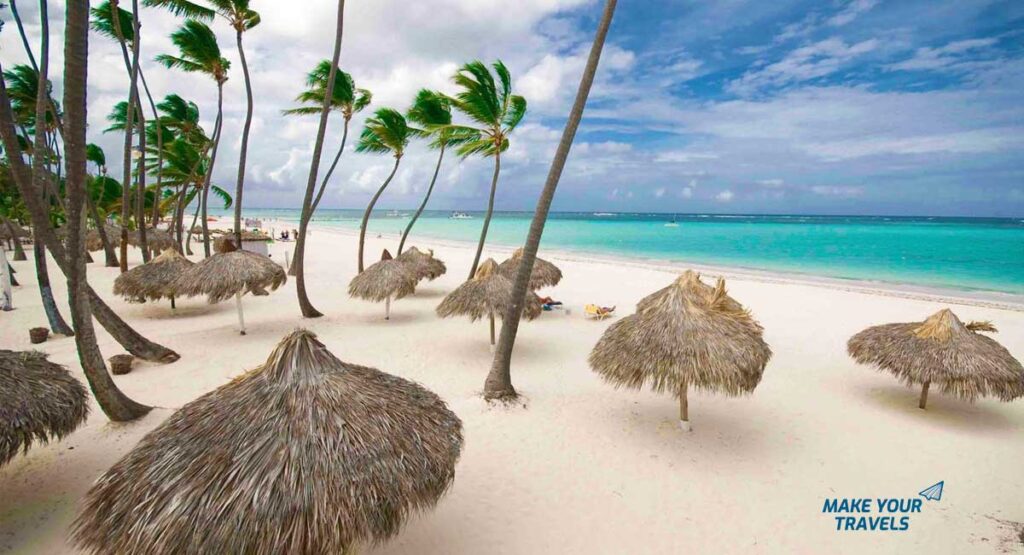 Many people ask us, "Where is the best public beach in Punta Cana?" The truth is that all beaches in Punta Cana are open to the public. Popular beaches, such as Bavaro Beach, are often difficult to access because they are surrounded by large resorts (which are, of course, not public). So, while the beach itself is open to the public, getting there may prove to be a challenge.
Not to worry! Los Corales Beach is one of the best in Punta Cana and serves as a public access point to the beachfront. It's a beautiful beach with white sand and plenty of activities for those looking for an alternative to the typical Dominican Republic all-inclusive resort vacation. Because it is connected to Bavaro Beach, you can enter through Los Corales and walk to Playa Bavaro.
What You Can Do at Los Corales
Find one-of-a-kind and down-to-earth rentals: Are you tired of the typical Punta Cana resorts and looking for the ultimate Dominican Republic experience? Los Corales is home to a number of residential complexes where you can rent an apartment or a condo for a short or long period of time and explore Punta Cana and Bavaro outside of the all-inclusive beach resorts.
Play volleyball with the locals: Do you enjoy sports? What about meeting new people from all over the world? Los Corales has a friendly ex-pat community that mingles with the locals, and there are often volleyball games in the afternoons around Los Corales. Participate, get some exercise, and meet new people on one of Punta Cana's best beaches!
6. Playa Blanca
"Playa Blanca" translates to "white beach," and it certainly lives up to its name! This lovely beach is only a short drive from the Punta Cana International Airport and provides a more upscale and private atmosphere than the other best Punta Cana beaches.
What You Can Do at Playa Blanca
Take a walk and enjoy the scenery: Playa Blanca has the whitest sand of any Punta Cana beach, so take a walk down the beach in the morning or afternoon, when it's not too hot, and take a look at how beautiful it is!
Enjoy upscale restaurants: Playa Blanca has a more elegant vibe and fancier restaurants than the rest of Punta Cana, so spend the afternoon relaxing in an upscale beach club and eating delicious food. After that, take your tropical cocktail to your sunbed and sip it while watching the sunset and waves crashing on the beach.
7. Macao Beach
Playa Macao is a local favorite located just outside of Punta Cana. It is well-known for its excellent surfing conditions, which draw surfers from all over the world. In 2020, an all-inclusive resort was built on Macao Beach, obstructing a portion of the beach, but it is still one of the best beaches in Punta Cana to visit and enjoy.
What You Can Do at Macao Beach
Learn how to surf: Have you always wanted to try your hand at surfing but never had the chance? Playa Macao is home to numerous surf schools with English-speaking instructors, so consider taking this as a sign to finally get to the lineup or catch your first wave!
Must Try Dominican Fried Fish: There are a few beachfront restaurants on Macao Beach that serve traditional Dominican cuisine, such as simple fried fish with tostones (fried green plantains) or rice. Playa Macao has some of the best fish in Punta Cana, and the small restaurants are delightful. Enjoy a large plate of food and fried fish.
Spend the afternoon watching people: Playa Macao is a laid-back surfers' beach with excellent people-watching opportunities. Grab a cold president and settle in to watch pro surfers show off at the lineup or pay attention to large Dominican families having a good time.
8. Juanillo Beach
Do you want to get away from your getaway quickly? Playa Juanillo is only a short drive from Punta Cana International Airport and provides a scenic, off-the-beaten-path getaway. It has a couple of beach restaurants for lunch and dinner, as well as shallow waters, making it one of the best beaches in Punta Cana for a family outing. It is less crowded than Bavaro Beach and provides a pleasant and relaxing atmosphere typical of the Caribbean.
Cap Cana, a small neighborhood known for its upscale resorts, luxury villas, and golf courses, is located right next to Juanillo Beach. Although some Cap Cana beaches are private, you can still see some of Cap Cana from Juanillo Beach. When it comes to Cap Cana vs. Bavaro Beach, both are absolutely stunning with white sand and turquoise waters, but Cap Cana beaches are more exclusive and upscale.
What You Can Do at Juanillo Beach
Relax in an intimate atmosphere: Sometimes you just need a vacation from your vacation, and Playa Juanillo provides just that. Punta Cana can get crowded, especially during the winter months, and this secluded spot is a great place to get away from the crowds, spend time with loved ones, and make new friends. At the same time, the atmosphere at Juanillo Beach remains classy and not as relaxed as in Cabeza de Toro or Macao.
Eat at one of the beach restaurants: Juanillo Beach in Punta Cana is not a large beach, but it does have a nice selection of beach restaurants that specialize in traditional Dominican cuisine. Order fried chicken with rice, fried fish with plantain, or lobster a la plancha (grilled). For more upscale dining options, try walking into Cap Cana.
Take beautiful photos: It can be difficult to capture unique moments at more crowded Punta Cana beaches, such as Playa Bavaro, but it is simple to do so at Juanillo Beach. Grab your phone or camera and start shooting!
9. EL Cortecito Beach
Are you looking forward to experiencing Punta Cana's nightlife? You don't even have to leave the beach if you live near Playa El Cortecito! This short stretch of sand is just off Bavaro Beach, but it has some of Punta Cana's best beach bars and is THE place to be at night. Are you ready to start partying?
What You Can Do at EL Cortecito Beach
Go for a walk along the beach: If you are not staying at Playa Bavaro, El Cortecito Beach is a convenient point of entry to the beach. You can simply walk through one of the beach bars (bonus points if you get a juice or a drink there!) and walk down to Bavaro Beach. These two beaches are close to each other, but the walk down Bavaro Beach can be as long as you make it to be!
Meet with new people: Playa El Cortecito is an excellent location for meeting people from all over the world as well as Dominicans. Brush up on your Spanish and get to talking! Dominicans are extremely friendly and welcoming, so you will quickly feel at ease.
10. Uvero Alto Beach
Uvero Alto Beach is about a 25-mile drive from the Punta Cana International Airport, but it is still considered one of Punta Cana's best beaches. It is less crowded than other Punta Cana beaches, and while it lacks the typical white sand and turquoise waters the sand is more yellow, and the water is bluer. it is still well worth a visit!
What You Can Do at Uvero Alto Beach
Get out of the crowds: You might be in the mood to try something new, especially after spending time in Punta Cana. That is exactly what Playa Uvero Alto is! A day trip to Uvero Alto Beach will satisfy your inner adventurer while also showing you the Dominican Republic from a different perspective.
Take a horseback ride: There are a few ranches in the area, and horseback riding on the beach is a popular activity for tourists (and locals!). Riding a horse down a beautiful, secluded beach is an unforgettable experience that we highly recommend! If you have children, they will undoubtedly enjoy it!
11. Playa El Limón
We've saved one of Punta Cana's best beaches until last! Playa El Limón (which translates to Lemon Beach!) is a true hidden gem in the Punta Cana area. This secluded beach is a short 20-minute drive from the main tourist area in the direction of Uvero Alto and offers the wild Dominican beach experience to those who find it!
What You Can Do at Playa El Limón
Have fun in the wilderness: To get to Playa El Limón, you must drive through a very scenic dirt road – it truly feels like you're in the middle of the jungle! When you arrive at the beach, you may be surprised to see that it is not your typical Punta Cana beach. Playa El Limón has bigger waves than most Punta Cana beaches, yellow sand, and a more natural feel to it.
Plan a picnic: Although there are no beach restaurants or bars on Playa El Limón, you can still treat your taste buds during your visit to this undiscovered location! Pack some typical Dominican treats, such as empanadas, fresh tropical fruits, and cold drinks, into your lunch bag, and grab a blanket to enjoy a picnic on the beach with no one else but you!
Last Thoughts about Best Beaches in Punta Cana
Contrary to popular opinion, Punta Cana is more than just one beach. Instead, it's a collection of distinct beaches that cater to various types of people and adventures! The choice is yours: party at El Cortecito Beach, learn to surf and hang out with athletic-minded people at Playa Macao or enjoy all-inclusive resorts at Arena Blanca, Arena Gorda, and Playa Bavaro.
When planning a trip to Punta Cana, keep in mind how diverse this small town can be. We recommend visiting all of the best beaches in Punta Cana because each one has something unique to offer.