When you are planning to enjoy your vacation on beaches in Mexico you should know about the Best Beaches in Mexico to Enjoy Your Vacation. A trip to Mexico is a popular choice for a variety of reasons. It is a country rich in ruins, culture, food, and, above all, beaches. In fact, beach lovers frequently find that the beaches are reason enough to visit Mexico on their own. Its extensive coastlines include the Gulf of Mexico, the Caribbean Sea, and the Pacific Ocean to the east and west, respectively.
10 Best Beaches in Mexico to Enjoy Your Vacation
The beaches and water around them will differ depending on which region of Mexico you visit. Some whales, turtles, and other large animal species differ between the Atlantic and Pacific sides of the country. Here's a rundown of the Best Beaches in Mexico.
Tulum Beach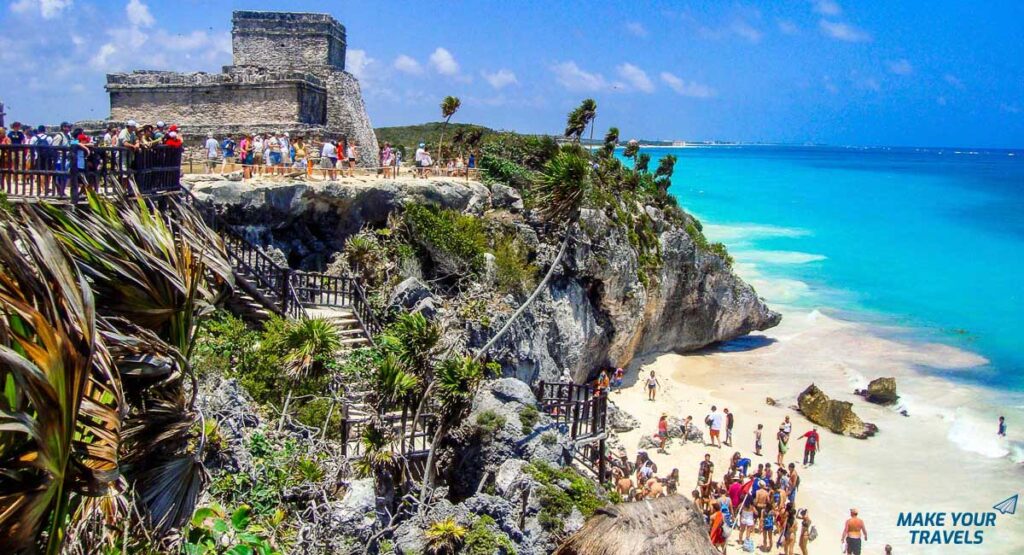 For history buffs, this beach is located in the shadow of the famous Tulum Mayan ruins. Though this alone would make it a tourist destination, the wide sandy beaches here have also gained popularity.
The beach at Tulum, located at the southern end of the Riviera Maya, has pristine white sand, palm trees, and turquoise water, creating the quintessential beach vacation that everyone dreams of on a snowy day. The region, which is about two hours south of Cancun, has great beach hotels where you can stay and relax while enjoying the beaches.
2. Playa Norte Beach
Isla Mujeres, located off the coast of Cancun, is popular for relaxation and wildlife viewing. Two of the most popular species to see here are sea turtles and whale sharks. Playa Norte, at the island's northern tip, has a wide swath of sand lined with palm trees, as well as a few beachfront restaurants and bars.
While some come here to escape the spring break madness in Cancun, it doesn't have to feel isolated. This is a great beach for both partygoers and wildlife watchers, and it's only a short distance from the mainland.
3. Playa del Amor Beach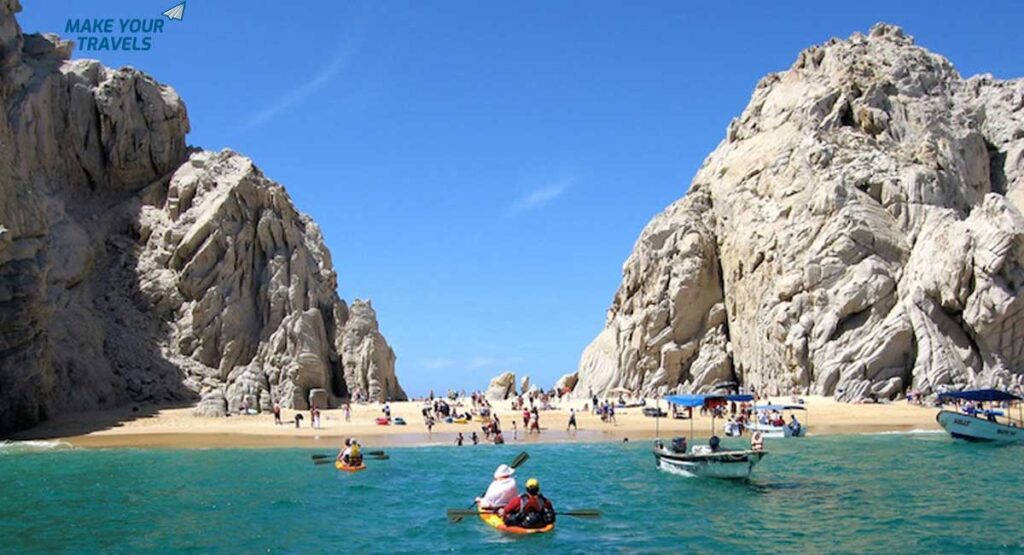 The secluded two-sided Playa del Amor (Lover's Beach), located at the confluence of the Sea of Cortez and the Pacific Ocean, is one of Mexico's most famous beaches. The beach is easily accessible by water boat from Cabo San Lucas' marina. It is well worth a visit, with its towering Land's End rock formations, endless ocean views, and excellent snorkeling on the Sea of Cortez side. Travelers should be aware that the tides on the Pacific side can be extremely rough.
4. Cancun Beach
Cancun is well-known for its beautiful beaches and turquoise waters as a vacation destination. This stretch of coast along the Gulf of Mexico is home to a variety of resorts, restaurants, and shops that are great places to stay and play.
The area is reminiscent of the Las Vegas strip, with all of the resorts lined up in a row and surrounded by miles of sand. There are also a dozen nearby beaches to visit, with turtles, whale watching, snorkeling, and much more to do.
5. Playa La Ropa Beach
The "Beach of Clothing" got its name after a Spanish galleon sank and its cargo of colorful fabrics washed up on the beach. Today, this is Ixtapa's main water sports beach. Parasailing, jet skis, and Hobie cats can all be rented here, and there are numerous restaurants to enjoy after a day on the water. Swimming in the river at one end of the beach, on the other hand, is not recommended due to the presence of crocodiles.
Also Read: 11 Best Beaches in Punta Cana Don't Miss To Visit in 2022
6. Puerto Vallarta Beach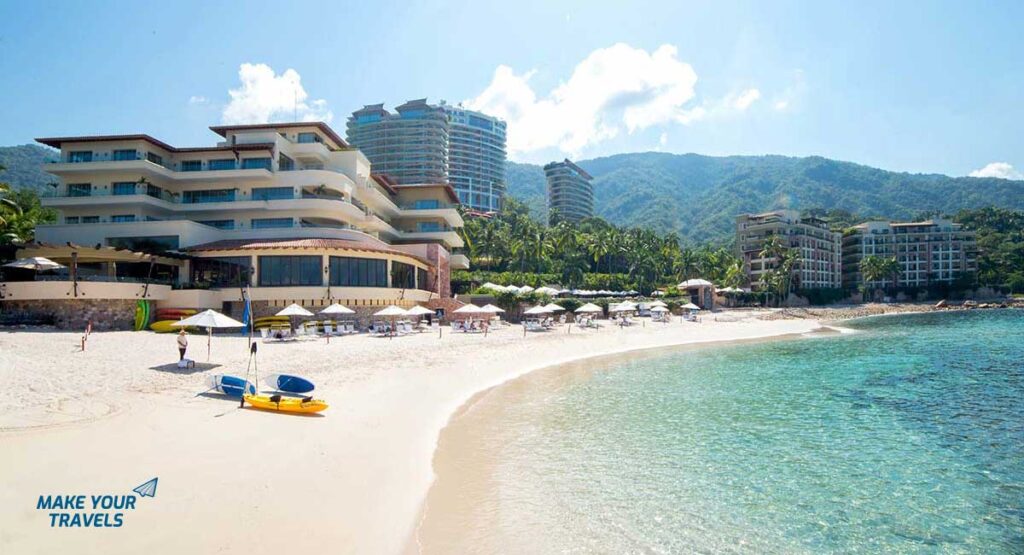 This Pacific oceanfront resort town is nestled along a string of beaches that will appeal to almost any visitor. Snorkeling in protected coves is popular, and there are also opportunities for whale watching and deep-sea fishing. This is one of Mexico's most popular resort towns, and a look at the coastline explains why.
The town is an intriguing blend of large resort areas and a central Zona Romantica, which contains the old town, quaint shops, and smaller hotels. Much of the older architecture and charm can be found here, which is surrounded on all sides by larger, newer resort areas and "Gringo Gulch," a residential area with large, foreign-owned homes.
7. Zipolite Beach
From the 1960s to the 1980s, this beach was known as a free love center and a popular counterculture destination. Although the majority of sunbathers are clothed, it has gained notoriety as one of Mexico's few nude beaches. It now draws an international crowd of sunbathers, shirtless yoga instructors, and surfers.
While there are still plenty of low-cost options, the west end of the village has seen the addition of a number of mid-range hotels and more upscale restaurants. The rocky headlands contrast with the red-tiled round architecture, and the pounding surf is ideal for more vigorous water activities.
8. Playa del Carmen Beach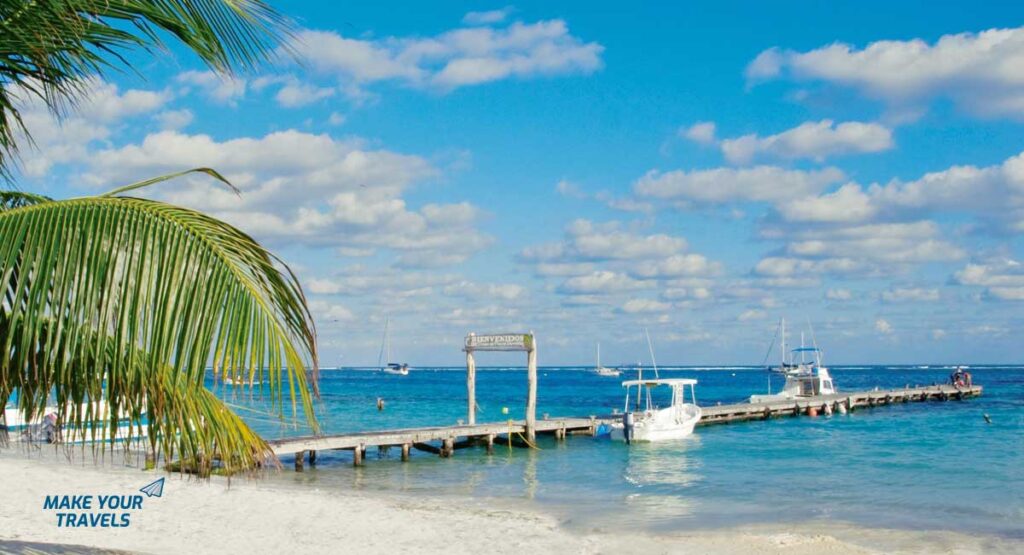 The beach here is delightful for those who love to relax, with clean sand and calm water. Despite being overrun by Europeans, Playa del Carmen retains much of its sleepy fishing village charm.
A mix of large resorts and small hotels, cruise ship visitors, and easy boat access to Cozumel and the Mesoamerican Barrier Reef make this a popular destination for those who want to visit other ports while still enjoying the best of Mexican water, sand, and hospitality.
9. Bahia Balandra
This is the best family beach in La Paz's Baja region. Bahia Balandra is a combination of sand and beautiful wind and water-worn rock formations and is perhaps best known for the rock formation known as Diamond rock.
It is safe to swim in almost every direction, and the location is shallow enough so that the chilly Pacific water warms up quickly. Because the amenities are not on the beach, it is not always as crowded as other nearby beaches.
10. Playa de Akumal Beach
This fantastic snorkeling area near Playa Del Carmen has a reef that stretches from 20 to 300 feet offshore, providing views for swimmers of all skill levels. Turtles, tropical fish, and other marine life are common sights, and the water is safe and calm enough for even the youngest snorkelers to enjoy. For those who do not want to snorkel, the sand is white and the water is calm, making it ideal for swimming and relaxing.