Idaho is known as the Gem State. When you are traveling to the USA and you want to visit Idaho, you must know what is the Best Places to Visit in Idaho This is fitting because the 43rd state is truly a gem among states. Along Interstate 90 in the north, you'll find lush green forests, picturesque lakes, and the historic silver mining town of Kellogg. Along Interstate 84 in the south, you'll find deserts and history – the Oregon Trail, which brought pioneers to the West, passes through here. Highway 12 is a scenic byway that parallels the Clearwater River, which Lewis and Clark followed on their expedition to the Pacific.
10 Best Places to Visit in Idaho Unique and Beautiful
Among the Best Places to Visit in Idaho, you'll also find excellent recreational opportunities, such as skiing and golfing, camping and hiking, and some excellent mountain biking on the Hiawatha Trail, which begins at the Montana border and ends 17 gorgeous, graveled miles later.
Yellowstone National Park
Yellowstone, America's most beloved park, is not only America's first national park but also the world's first. It's an amazing place to visit, with breathtaking scenery and plenty of geothermal activity (don't miss seeing Old Faithful erupt).
It's also a great place to see wild animals in their natural habitat – buffalo rule here, so don't be surprised if you get stuck in traffic due to one sauntering down the road. Keep in mind that these animals are wild, so keep your distance. Yellowstone National Park is mostly in Wyoming, with only 1% in Idaho.
2. Boise
Boise, located in southwest Idaho, is both the state's largest city and its capital. Boise (pronounced "BOY-see"), located in Idaho's Treasure Valley, was a stop along the Oregon Trail. The city's 8th Street, which runs through downtown, has been designated as a pedestrian zone.
The Basque Block is located here, where you can learn about Boise's Basque heritage. The North End of Boise has older homes and tree-lined streets; in 2008, the American Planning Association named it one of America's 10 Great Neighborhoods. Don't miss the annual Gene Harris Jazz Festival if you enjoy jazz.
3. Sun Valley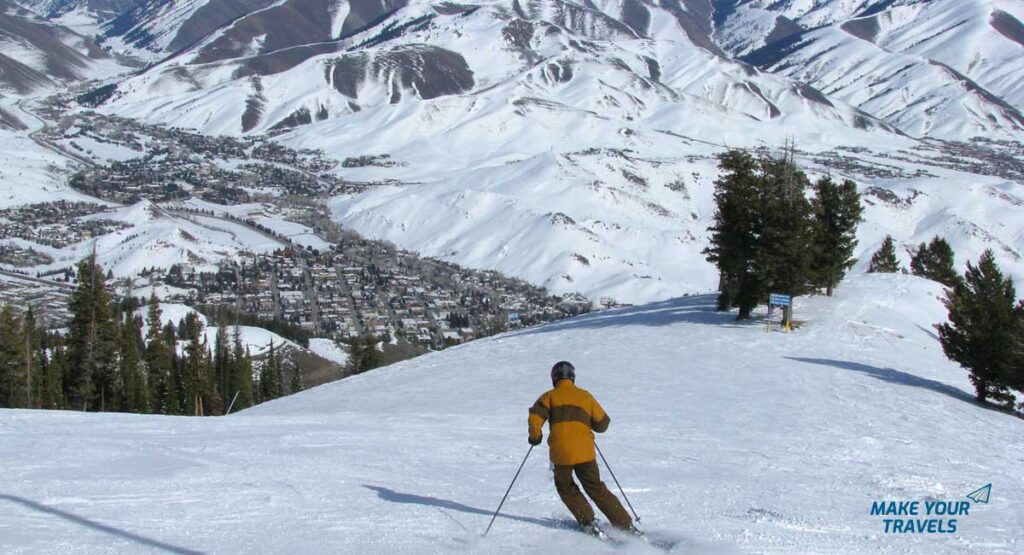 Sun Valley is Idaho's premier ski and summer vacation destination, and many celebrities have homes there. Sun Valley, located in central Idaho, is surrounded by mountains that offer great skiing, ice skating, and snowboarding in the winter, and golf, horseback riding, hiking, and fly fishing in the summer.
It is a popular family vacation spot all year. Sun Valley has hosted World Cup ski races, and Olympic ice skater Sonja Henie filmed here. Ernest Hemingway, a well-known author, wrote For Whom the Bell Tolls here.
4. Craters of the Moon National Monument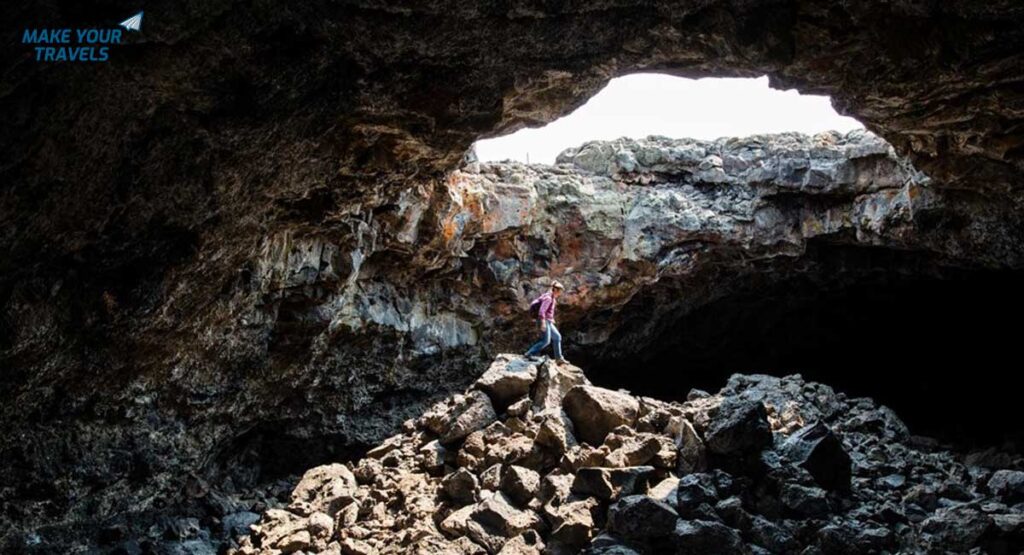 The Crater of the Moon National Monument in southern Idaho is a strange place. It appears desolate due to the lava formations; however, it is one of the best-preserved basalt flood areas in the Lower 48 states. NASA astronauts trained at the lava field, which was thought to resemble the Moon's surface, as they prepared for their moon landing. When they arrived, they discovered that the Moon was not the same as the Craters of the Moon.
A flashlight is required if you intend to explore the lava caves; water is also required in the summer. The Oregon Trail passed close to the monument.
Also Read: 23 Best Places to See in Amsterdam in 2022
5. Shoshone Falls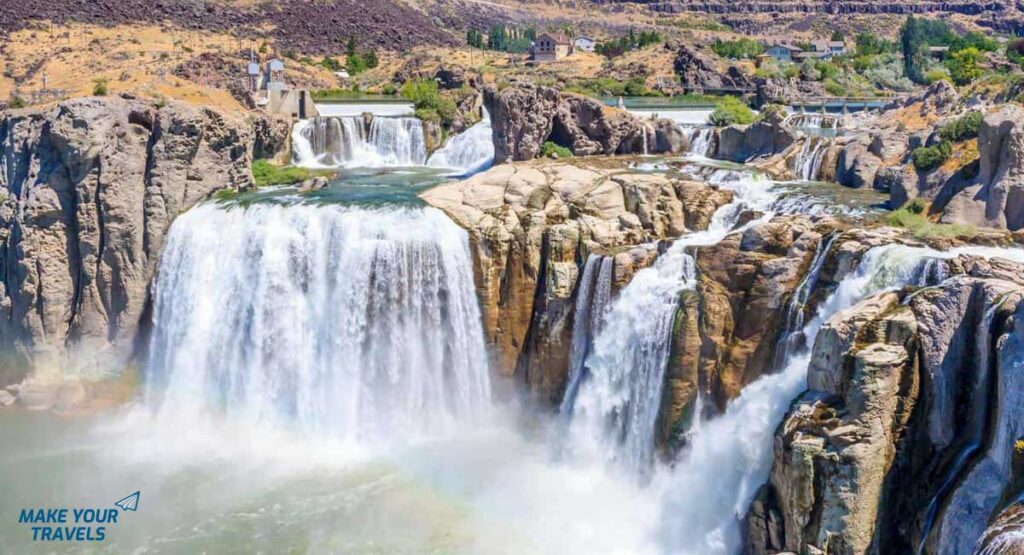 Shoshone Falls is located in Twin Falls, Idaho. The Snake River falls 212 feet (65 meters), while Niagara falls only 167 feet (51 meters). Shoshone Falls is still referred to as the "Niagara of the West." The falls were popular fishing and trading location for Native Americans, including the Shoshone for whom they were named. A city park with swimming, picnic and play areas, hiking trails, and a boat ramp is the best place to see the falls.
6. Coeur d'Alene
Coeur d'Alene, located 30 miles east of Spokane, Washington, rules the Idaho Panhandle. The city is the largest in northern Idaho and is located on the shores of the beautiful Lake Coeur d'Alene. If you enjoy golf, you should play a few rounds at the Coeur d'Alene Resort course, which is famous for its 14th Hole, a green that sits in the lake and is supported by an underwater cable.
From its Christmas lights cruise on the lake to the Iron Man competition in the summer, Coeur d'Alene is one of the best places to visit in Idaho all year.
7. Idaho Falls
Idaho Falls' falls are not particularly deep, but they are quite wide. The downtown Idaho Falls falls are only 22 feet (7 meters) tall, but they span 600 feet (180 meters) across the Snake River. The Snake River Greenbelt, a six-mile round trip on a paved path, is the best place to see them.
The city's main attraction, the greenbelt, is popular with bikers and strollers, as well as those who climb down the rocks for some fishing. The town itself is the best in the state of Idaho. It serves as the region's economic, arts, and cultural hub.
8. Hells Canyon National Recreation Area
Many visitors regard Hells Canyon National Recreation Area, which separates Idaho and Oregon, as a scenic and recreational area. There's no doubt about it: Hells Canyon, at nearly 8,000 feet deep, is the deepest river gorge in North America and can be explored via numerous hiking trails.
The Snake River runs through the center, joining the Clearwater River to the south. Hells Canyon is also an important archaeological district, with evidence of human presence dating back 15,000 years. Because early explorers passed through here, there are historic sites on both sides of the canyon.
9. Lava Hot Springs
Lava Hot Springs is a popular Southern Idaho vacation destination located near Pocatello on the old Oregon Trail route. The town isn't very big – just over 500 people – so it's a good place to get away from the crowds.
The phrase "chill out" may be a misnomer, as there are five hot springs pools here. Water temperatures constantly range from 102° to 112°, despite the fact that water flows to the Portneuf River at a rate of 250 million gallons per day. When you're done soaking, take a break by floating down the river on inner tubes.
10. Sandpoint
Sandpoint has a population of less than 8,000 people, but it is a major economic hub in northern Idaho. Coldwater Creek, a women's clothing retailer, and Lighthouse Foods, a salad dressing manufacturer, both have their national headquarters here.
Sandpoint is nestled in the mountains and sits on the shores of Lake Pend Oreille, Idaho's largest lake with swimming, boating, and fishing. Bing Crosby's family used to own a large stone home on the lakefront. Schweitzer Mountain, Idaho's largest ski resort, is nearby. It's no surprise that this charming town was named a Most Beautiful Small Town in 2011.